Get Involved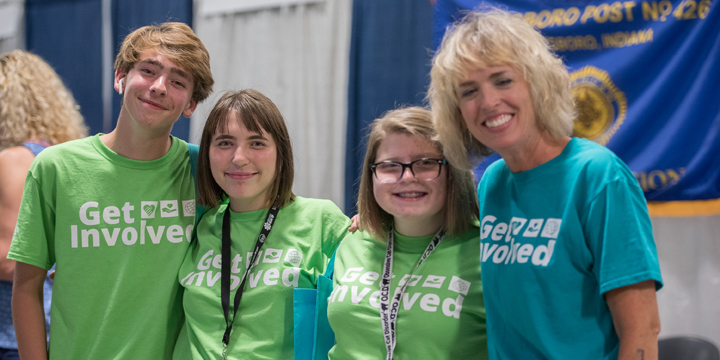 Get Involved 2019
This form is currently unavailable. Try again later.
The Hendricks County Community Foundation is excited to announce our community-wide event: Get Involved 2019!  This is an opportunity for our local nonprofits to engage community members who are looking for ways to get involved in Hendricks County.
Presented by HCCF in partnership with the Hendricks County 4H Fairgrounds & Conference Complex, this event will provide a fun and casual way for nonprofits to spread awareness of their organization as well as recruit community members as Board members, volunteers or general members.
Get Involved is HCCF's annual volunteer job fair matching volunteers who care about their community with nonprofit organizations that need them.
Nonprofits, register today!
Nonprofit Exhibitor Information:
Location and Time:
The Expo Hall at the Hendricks County 4H Fairgrounds & Conference Complex; Wednesday, September 18, 2019; 6-8 pm.
Booth set up time: 1:00 pm - 4:00 pm 
Who can have a booth?
Any nonprofit or charitable group serving Hendricks County (This event is not a fundraiser for HCCF or any participating organization.)
What is provided?
A free booth! This event is free for nonprofits. As part of HCCF's nonprofit capacity building grantmaking, HCCF is excited to connect our community to the charitable organizations in Hendricks County.
Each booth will have one 8 foot table, 2 chairs and a table cloth (feel free to bring your own branded one if you chose). HCCF will also provide special signage for each booth with your organizations name, the communities you serve, year established,  if you have received HCCF grant money, and your chamber membership if applicable.
What is expected for a nonprofit to participate?
Spread awareness of the event.
Organizations will receive a media kit to help spread the word on social media platforms, newsletters, enews etc. Be sure to use our event hash tag when talking about Get Involved #GetIN19.
Create one PowerPoint slide about your organization and send to Frances Mock at frances@hendrickscountycf.org by Sept. 6th.  Slide should include: Logo if you have one, mission statement, tag line and a few photos of your work in action. 
Set up the day of the event between 1 pm and 4:00 pm.
Attend the networking reception from 4:30 pm – 5:45 pm. Food and drinks will be provided.
Interact with attendees from 6:00 pm – 8:00 pm.
Organizations are encouraged to provide an activity to interact with attendees and/or promote their mission. For example,  animal shelter has adoptable dogs and cats on site, music organization has drums or instruments, community development organization asks attendees how they can make Hendricks County better.
Event passports will be provided to attendees to encourage them to visit a variety of booths.
Tear down between 8:00 and 9:00 pm.
Please be sure to Register your organization for this event by August 30th. The first 80 booths to register will be accepted for this event.
 
Download the 2018 Event Brochure listing all of the participating nonprofits.
Photos from Get Involved 2018