Lilly Endowment Community Scholarship
Since 1998, the Hendricks County Community Foundation has been proud to partner with Lilly Endowment Inc. to administer the Lilly Endowment Community Scholarship Program in Hendricks County. The primary purposes of the Lilly Endowment Community Scholarship Program are 1) to help raise the level of educational attainment in Indiana; 2) to increase awareness of the beneficial roles Indiana community foundations can play in their communities; and 3) to encourage and support the efforts of current and past Lilly Endowment Community Scholars to engage with each other and with Indiana business, governmental, educational, nonprofit and civic leaders to improve the quality of life in Indiana generally and in local communities throughout the state.
The program provides scholarships for otherwise unreimbursed full tuition, required fees, and a special allocation of up to $900 per year for required books and required equipment for up to eight semesters/12 quarters of undergraduate study on a full-time basis leading to a baccalaureate degree at any Indiana public or private nonprofit college or university accredited by the Higher Learning Commission of the North Central Association of Colleges and Schools.
---
LECSP in Hendricks County
An overriding goal of the Lilly Endowment Community Scholarship Program is to help meet the scholarship needs of students in the state of Indiana as identified and articulated within local communities. In furtherance of that goal, Lilly Endowment Inc. allows community foundations wide latitude to develop the student scholarship application and nomination criteria and procedures.
In 2023 the HCCF Board of Directors approved an updated and new framework for the LECSP in Hendricks County. The new program is designed to recognize top academic talent and service to a student's community while also acknowledging barriers that may be present. 
The 2023-2024 program is broken into two parts: The Application and The Interview. 
---
Criteria Comparison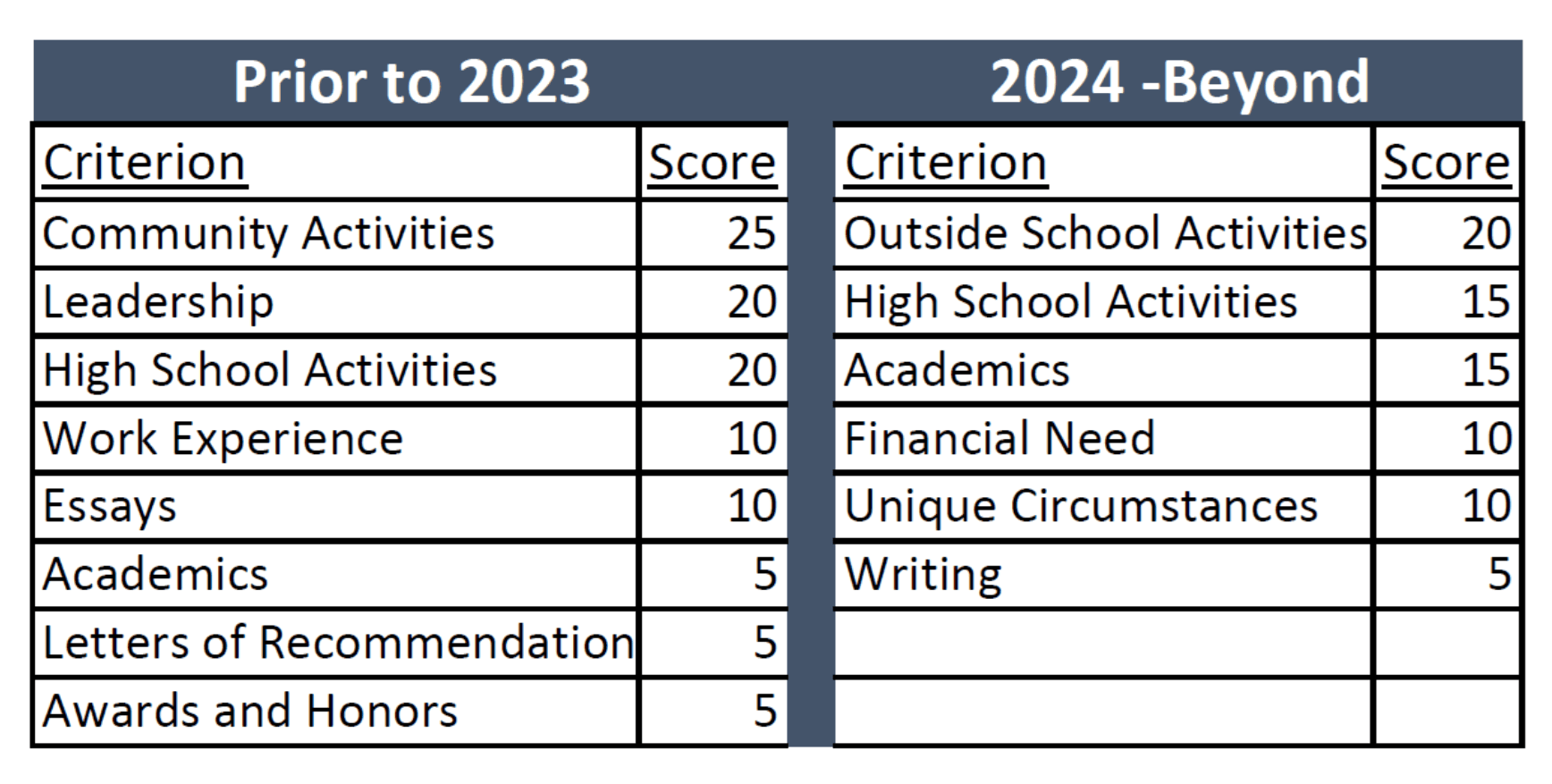 ---
The Application
All HCCF Scholarships, including the LECSP, utilize the same student application; however, each has its own rubric.
For LECSP, the rubric is as follows: 
Outside School Activities--20 points: What does the student do in their free-time? 

Community Activities i.e. 4-H, Boy or Girl Scouts, The Children's Ballet, Indianapolis Children's Choir, etc.
Community Service
Faith (outside of attending regular services)
Responsibilities at Home (outside of regular chores)
Work including unpaid internships, family jobs, etc. 

School Activities--15 points: What is the student involved in at or through the school?
Academics--15 points:

Weighted GPA compared to applicants from the student's school
Diploma track
Special needs

Financial Need--10 points:

Family Adjusted Gross Income
Number of individuals in the family

Unique Circumstances--10 points: Characteristics out of a student's control like being a first generation college student, students with a physical or mental impairment, being in single parent home, etc.
Writing--5 points: Based on grammar, spelling, organization, clear writing, and content. 
---
The Interview
In-person interviews will be held on Saturday, October 28, 2023. Ten students are offered an interview and the times are randomly selected from 8:20am - 2pm. 
First round scores are zeroed out, and the final recommendations are made solely on the interview score. 
The Interview rubric is as follows: 
Interview Questions--25 points

Caring/Compassionate
Community focus/drive
Grit/Resilience
Integrity
Leadership

Poise--5 points
Reference Check--5 points
Comparative Score--10 points: Interviewers rank the ten interviewees 1-10.
All interviewees are notified of the outcome by phone in December after the process is reviewed by a statewide Selection Committee.